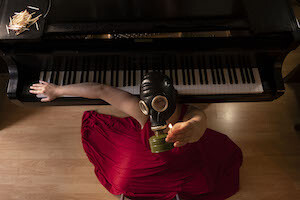 8 August 2021
Piano Burning
Time
Sunday 08/08 8:00
Venue
Mountain View Cemetery
5455 Fraser St.
Vancouver BC
Canada
Program
A reinterpretation of Annea Lockwood's conceptual classic, Piano Burning, in which the fire that engulfs the piano (the peak achievement of European Industrialist Culture) is reframed as a metaphor for the crucible of our striving toward decolonization.
SD Holman, Artistic Director of Queer Arts Festival, and Margo Kane, Artistic Director of Full Circle First Nations Performance curate a newly commissioned piece by Lil'wat composer Russell Wallace and a fireproof red ballgown created by Métis designer Evan Ducharme.
Annea Lockwood's Piano Burning Score (1968 London);
Set upright piano (not a grand) in an open space with the lid closed.
Spill a little lighter fluid on a twist of paper and place inside, near the pedals.
Light it. Balloons may be stapled to the piano.
Play whatever pleases you for as long as you can.
More Information
Featuring:
Evan Ducharme
Orene Askew
Russell Wallace
Sempúlyan Gonzales
Ralph Escamillan
&
Rachel Kiyo Iwaasa