Biography
Hailed in the press as a "keyboard virtuoso and avant-garde muse" (Georgia Straight) with the "emotional intensity" to take a piece "from notes on a page to a stunning work of art" (Victoria Times Colonist), Rachel Kiyo Iwaasa is recognized among Canada's foremost contemporary music pianists. Selected to close the ISCM World New Music Days 2017 in Vancouver, Rachel has performed in the Netherlands, Germany, US and across Canada, with engagements including Muziekweek Gaudeamus, Music TORONTO, Music on Main, Vancouver…
Keyboard virtuoso and avant-garde muse
Alexander Varty, Georgia Straight
Pianist Iwaasa quite simply pulls no punches, attacking each composer's work with passion, intensity and the nuanced playing she's acclaimed for... she manages to instil a sense of dynamic tension and pull to every note.
Stuart Derdeyn, The Province
The outrageously talented Vancouver pianist Rachel Kiyo Iwaasa … deftly spans an array of atmospheres with impressive mastery and stylistic clarity.
Jason van Eyk, Musicworks Magazine
Canada is blessed with a remarkable roster of talented pianists who are dedicated to championing work by our country's composers. We can add Vancouver's Rachel Kiyo Iwaasa to that roster.
WholeNote Magazine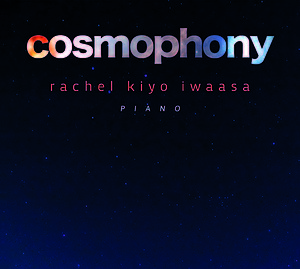 Cosmophony
Twelve composers share their inner reflections on outer space in Rachel Kiyo Iwaasa's debut solo album. Featuring George Crumb's Makrokosmos, Volume II, and sonic journey through our solar system and beyond with works by Denie Gougeon, Rodney Sharman, Marci Rabe, Alexander Pechenyuk, Jocelyn Morlock, Jordan Nobles, Christopher Kovarik, Jeffrey Ryan, Stefan Udell, Jennifer Butler and Emily Doolittle.
Brilliant... Unforgettable... A fascinating adventure about unimaginable largeness and gravity, unknowable states, an invitation to wonder. —Lloyd Dykk, Vancouver Sun
25 September 2018
See All
Phobos And Deimos Circling (2012)